Johnny Neal
remembers Clive Deacon 'The Captain'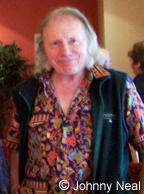 It is with sorrow and shock that I have to report the sudden and unexpected demise of my friend and sometimes personal roadie of over 50 years, Clive Deacon (alias The Captain), who suffered a thrombosis of the leg which spread to his lungs, and without warning, snuffed out the light of one of life's characters and a true 'Son of Brum' - "The Captain".
I first met Clive when he was a callow youth of 17 and used to hang around King George VI playing fields in Sheldon, with his footie togs, hoping to get a game if a team was short of a player. My team, Cranes Park Rangers, utilised his services one Sunday morning and afterwards as normal, we all retired to the local pub for a pint or two (and more!!). Clive tagged along, became part of our set up and so began my association with Clive which lasted until his recent death.
Apart from "footie", Clive was also a "bit of a star", with the Sheldon Cycle Speedway Team and had a few fans to boot, which stood him in good stead when he dabbled in the Brum Beat revolution and formed a group called 'Clive and the Dominators' and they appeared regularly at the Station Pub Brownhills. Clive realised early on that his talents lay in another direction and so began his lifelong obsession of the theatre and he became a part-time writer of plays/books etc. whilst holding down a job at the Jaguar Car Plant in Coventry. Clive was a traditionalist and fan of anything British and his work reflected this aspect and in later life, his appearance took on that of some of the characters he wrote about and he looked as if he had stepped out of a page of a Charles Dickens novel. (There is a picture of Clive featured on my 50 years of celebration on the Brum Beat web site).
As a traditionalist, it naturally followed that he would get involved in that idiom and he became Chairman of the North Oxford Branch of CAMRA (Campaign for Real Ale). His love of New Orleans Trad Jazz really took over his life and he even funded and put on jazz sessions at various pubs around the Midlands including Stratford upon Avon and one even expected 'The Bard' to turn up! Clive even took his trad leanings on to the road and to this day had been transporting himself (and me to my tin-hat rough pub gigs) in his 1956 MG car which was bloody freezing at times, together with 'The Captain's in-car entertainment' (a battery operated tape player on the back seat which amused my wife Maggie no end when he took us on his Black Country pub runs) and if that was funny, the first sight of his bakelite traffic indicator shooting out from the side of the car, which apart from making her jump, really doubled her up. Happy memories indeed.
At the Captain's funeral at Yardley, a man introduced himself to me and said that he (due to his expertise with cars) kept the MG on the road and together with my payments for his roadie services, Clive was able to enjoy the MG to the end. The mechanic and myself were very happy to have contributed in small measure to the life of one Clive Deacon (The Captain) - a good friend, eccentric, a loner (although surrounded by people) and someone who held an even temperament, never talked negatively about himself or others.
As a final grand gesture to Clive, the CAMRA team plus friends and jazz musicians from all over the UK turned up and they in turn gave the Captain (or Claude as he was also called), a traditional New Orleans send off, with firstly the band playing the slow march as the coffin was carried in and then afterwards in true New Orleans style, celebrating his life with happy upbeat music. A great but sad ending to a good friend who will be sorely missed.
---
Back to BRUM BEAT FEATURES PAGE