Tea & Symphony gained a reputation early on, for their strange stage-shows and presentation which included as much theatrical as musical content. They were probably the first local group to perform at Erdington's legendary Mothers club that opened in August of 1968. This internationally famous venue that specialized in booking the top "progressive" groups, was previously known as the Carlton Ballroom where a number of local acts including The Moody Blues had got their start in the early 1960's.

In 1969, Tea & Symphony toured with progressive blues outfit Bakerloo who were from nearby Tamworth in Staffordshire. Both groups were signed to the Harvest Records label in 1969 and Tea & Symphony were able to record under the direction of producer Gus Dudgeon who had previously worked with the famous Nottingham group Ten Years After and would later produce records by Elton John.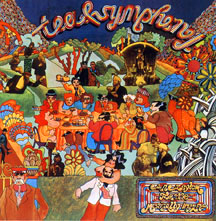 The resulting Tea & Symphony album, brilliantly and appropriately titled An Asylum For The Musically Insane certainly lived up to its name and was made up of nine original songs all composed by the group themselves. To describe the recordings as eccentric would be an extreme understatement and reviews in the music press ranged from "brilliant" to "self-indulgent" although the latter is probably a more accurate description.
The album cast aside all commercial considerations with most of the tracks featuring weird vocal arrangements and a largely acoustic backing. Drums on the album were played by Bakerloo member Dave "Clem" Clempson with additional percussion and noises by producer Gus Dudgeon. Most of the songs were composed by Jeff Daw and one of them Armchair Theatre (a reference to the popular U.K. television series) was even put out as a single. The only almost "conventional" song on the album was The Come On which displayed a strong blues influence as well as some brilliant lead guitar.
After the album's release, Nigel Phillips, possibly because of a reluctance to "go electric" with a bass and drums line-up, decided to leave the group. He asked a friend Bob Wilson to take his place in Tea & Symphony as Bob was proficient in both guitar and piano. The group then went down to London to record their next album. Session musicians Pat Donaldson (bass) and Gerry Conway (drums) were hired to play on the album as they had a history of playing with similar kinds of bands. With the recording completed, James Langston approached Birmingham drummer Peter Chatfield at the famous musician's hang-out Bull's Head Pub on 'The Green' in Moseley. Pete agreed to join the group as a full-time member and was present at the final mixing of the second album.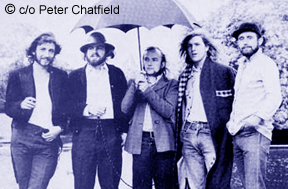 The new Tea and Symphony album entitled Jo Sago, produced by Tony Hall and Tony Cox was released in 1970 and according to available accounts, was little more accessible musically than the previous release. For the live line-up, Tom Bennison from Bellbroughton Worcestershire, who played bass guitar and French horn was then recruited to the ranks of Tea & Symphony. He stayed for only a short time before he left and was replaced by Dave Carroll who played bass, electric/acoustic guitars, violin and helped out on the vocals.
Towards the end of 1971, Bob Wilson went on holiday and was replaced by Stewart Johnson (guitar/vocals). Not long after, Pete Chatfield who had spent two years in the group also decided to leave. He recalls; "I left due to the lack of any real money coming in and the need to pay rent and eat!". Pete's place was taken by Micky barker who went on to greater things. Pete Chatfield went on to playing in all sorts of bands including Greek music for 12 years at the Ulysses Restaurant on Bristol Street as well as time with Peter Lee Stirling (Daniel Boone) and guitarist Dave Ball from Procol Harum. He also backed Coventry's Don Fardon of "Indian Reservation" fame.
The rest of Tea & Symphony also went their separate ways. James Langston in the later 1970s, became vocalist for Brum group Mean Street Dealers of which Jim Simpson was also a member. Guitarists Dave Carrol and Bob Wilson joined the Steve Gibbons Band (formerly the Idle Race).
Although Tea & Symphony made little impact as far as the record charts were concerned, their two (now rare) albums continue to attract the attention of those collectors interested in the more off-beat and unconventional recordings from that era.
Special thanks to Peter Chatfield for assistance in preparing the Tea & Symphony biography.